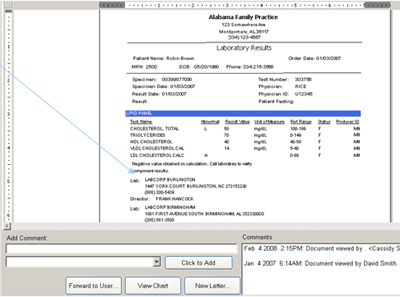 External Lab Reference Companies Integration:
With lab approval, electronic lab results are available within EHR.
Electronic lab results enable providers to receive results faster.  Receive lab results real-time from external lab reference companies that are routed automatically to physician's inbox for quick review and proactive response:
LabCorp*
Quest Diagnostics*
AEL – American Esoteric Labs*
Orchard Lab*
LabPak LIS*
Pathgroup Labs*
Alabama Pathology
Ameritox
Atherotech
Bako Laboratories
Boston Heart Labs
Bostwick Laboratories
Compass Lab Services
Cunningham Pathology
Cytopath
Diatherix
Gen Path Diagnostics
Halfpenny Technologies
Medcomp Sciences
Medical Diagnostic Labs
Path Group
Popular Healthcare
Skin Path
Southeastern Clinical Laboratories, LLC
Southern Clinical Labs
Vap Diagnostics
*include orders/results
Lab results are routed to physician's inbox for review and action.  Within the EHR, quickly review all new lab messages from the Inbox when convenient.  Lab integration is one of several interoperability options.  Lab results may require prior lab reference company approval. With lab approval, there is no charge.